Posts for tag: nutrition
By Mark Makela D.D.S., PC
May 10, 2016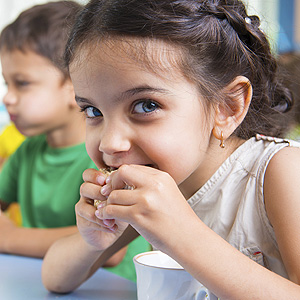 While you do all you can to provide your child healthy meals and snacks at home, they still face tempting choices for unhealthy fare when they're away. Unfortunately, their school campus could be one of those places with food choices that raise their risk for dental disease.
Thankfully, that situation is beginning to change. The U.S. Department of Agriculture (USDA) issued regulations a few years ago tightening minimum health standards for snacks available on school grounds. Called the Smart Snacks in Schools initiative, it promotes whole grains, fruits, vegetables and low-fat dairy products, while discouraging snacks with empty calories, fat, sugar and excessive salt. This is good news in particular for preventing tooth decay in children and teenagers.
Unfortunately, the initiative may not go far enough. There are a few "loopholes": it allows for chocolate milk with added sugar as long as it's fat-free; high schools can also sell beverages like sports and energy drinks, which are low in sugar but high in enamel-harming acid. So, although the general nutrition of snacks in schools may be improving, you should still remain alert to poor choices that may fall through the cracks.
For one thing, you can advocate for better nutrition policies in your child's school. The USDA initiative is a minimum standard — schools can exceed them and eliminate borderline snacks allowed under the federal regulations.
You can also provide your child snack alternatives to the school vending machine. A little creativity and fun can go a long way: a dash of cinnamon or parmesan cheese on popcorn instead of butter; finger sandwiches made of real cheese on whole-grain bread (with some whimsical shaping with a cookie-cutter); or bite-sized fruits and vegetables like grapes, baby carrots or nuts. The more healthy (and enjoyable) snacks you can send with them, the less chance they'll turn to a less nutritious choice in the vending machine.
A healthier approach to snacking depends on setting good examples, providing ample selections and accentuating the positive about healthy foods. Choosing nutritious foods, at home and away, is a key building block for healthy teeth and gums.
If you would like more information on nutrition and dental health, please contact us or schedule an appointment for a consultation. You can also learn more about this topic by reading the Dear Doctor magazine article "Snacking at School."
By Mark Makela D.D.S., PC
March 12, 2014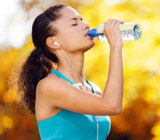 If you or your family has an active sports lifestyle, you probably already know the importance of food and liquids for energy and hydration. But what you eat and drink (and how often) could unintentionally increase your teeth's susceptibility to tooth decay. With that in mind, you should plan your nutrition and hydration intake for strenuous exercise to maximize energy and reduce the risk of tooth decay.
On the general health side, carbohydrates are your main source of energy for sports or exercise activity. You should eat a substantial carbohydrate-based meal (such as pasta, cereal or sandwiches) a few hours before a planned event. An hour before, you can snack on something easily digestible (avoiding anything fatty) to prevent hunger and as additional energy fuel.
It's also important to increase your liquid intake before strenuous activity to avoid dehydration, usually a couple of hours before so that your body has time to eliminate excess fluid. During the activity, you should drink three to six ounces of water or sports drink every ten to twenty minutes to replace fluid lost from perspiration.
While water is your best hydration source, sports drinks can be helpful — they're designed to replace electrolytes (sodium) lost during strenuous, non-stop activity lasting more than 60 to 90 minutes. They should only be consumed in those situations; your body gains enough from a regular nutritional diet to replace lost nutrients during normal activity.
In relation to your oral health, over-consumption of carbohydrates (like sugar) can increase your risk of tooth decay. The acid in most sports drinks also poses a danger: your teeth's enamel dissolves (de-mineralizes) in too acidic an environment. For these reasons, you should restrict your intake of these substances — both what you eat and drink and how often you consume them. You should also practice regular oral hygiene by brushing and flossing daily, waiting an hour after eating or drinking to brush giving your saliva time to wash away food particles and neutralize the acid level in your mouth.
Knowing what and when to eat or drink is essential to optimum performance and gain in your physical activities. Along with good oral hygiene, it can also protect your oral health.
If you would like more information on the best sports-related diet for both general and oral health, please contact us or schedule an appointment for a consultation. You can also learn more about this topic by reading the Dear Doctor magazine article "Nutrition for Sports."
By Mark Makela D.D.S., PC
March 26, 2013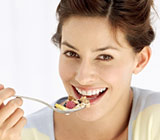 What and how you eat and drink has a significant impact on the health of your teeth and gums. Therefore, an effective oral hygiene regime must take your diet into account.
Acid is your teeth's enemy; it can erode their protective enamel coating (a process called demineralization). Certain foods and beverages (such as citrus drinks and coffee) contain it, and it's produced by bacteria in your mouth that feed on dietary sugar and release acid as a byproduct (a process called fermentation). Your allies are foods and beverages that neutralize acids, provide minerals and vitamins to repair tooth enamel, and stimulate saliva.
Sugar & Decay
Sugars, the leading promoter of dental decay, exist in many forms in our diet. Some occur naturally, while others — referred to as "free sugars" — are added by the manufacturer, cook or consumer. The latter are most often linked with decay. Soft drinks are the primary source of dietary free-sugars in the U.S.
Sugars in fruit, vegetables, milk and unprocessed, starch-rich foods such as rice, potatoes and whole grains, do not appear to be harmful to teeth. Note, however, that dried fruits contain a highly concentrated sugar level and can stick to tooth surfaces. The sugar substitutes xylitol and sorbitol appear not to promote decay. In fact, there's evidence that chewing xylitol-sweetened gum three to five times daily for at least five minutes (after meals) stimulates saliva flow, which helps protect against decay.
Acids & Erosion
In addition to eroding tooth enamel, acidic foods and beverages create an environment where it's easier for decay-promoting bacteria to flourish. Saliva can reduce acidity but it must have time to work, at least 30–60 minutes. That's why behaviors that maintain acid levels, such as sipping coffee throughout the day, can be harmful.
Saliva-Promoting Saviors
Saliva is a front-line defense against erosion and decay. It helps remove food particles and contains minerals that help neutralize acid and promote remineralization of the tooth surface. Foods that stimulate saliva and/or contribute essential minerals include:
Cheese — stimulates saliva and is rich in calcium, contributing to the re-calcification of teeth and protecting against the loss of calcium,
Cow's milk — contains decay-counteracting calcium, phosphorous and casein,
Plant foods — are fibrous and require chewing, which mechanically stimulates saliva,
Water — keeps you hydrated, which is important for saliva production and preventing dry mouth (a condition that promotes acid-producing bacteria), and helps wash away food particles; fluorinated water bestows the protective properties of fluoride (a compound that makes tooth enamel more resistant to acid erosion and promotes re-calcification).
As you can see, brushing and flossing effectively is just part of the oral hygiene equation.
If you would like more information about nutrition and oral hygiene, please contact us or schedule an appointment for a consultation. You can also learn more about this topic by reading the Dear Doctor magazine article "Nutrition & Oral Health."