Posts for tag: dental injuries
By Mark Makela D.D.S., PC
February 03, 2015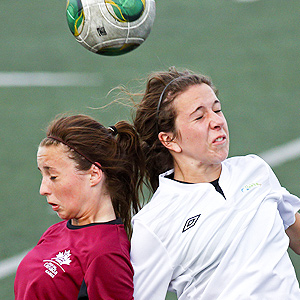 If you regularly participate in sports or other physical activity, you're at a higher risk for dental injuries. While chipped teeth are the most common result of these injuries, a few may result in more serious trauma — dislodged, cracked or knocked out teeth. In these cases, the core of the tooth — the pulp — and the root may have been damaged. Saving the tooth may require endodontic treatment and possibly the expertise of a specialist in the field, an endodontist.
Endodontics, from the Greek words for "within" and "tooth," is a specialty of dentistry that treats disease or damage affecting the inner parts of a tooth, particularly the pulp chamber, the root canals, and the root. While all dentists are trained in endodontic procedures, an endodontist has advanced training, experience and specialized equipment to address complex cases.
The type of endodontic treatment needed for an injured tooth will depend on the extent of damage. A mature, permanent tooth with pulp damage, for example, may require a root canal treatment. In this procedure the pulp chamber and root canals are thoroughly cleaned out, and then are filled with a special filling to prevent any future infection. Later the tooth should be crowned to permanently seal it. Although a general dentist may perform a root canal, more complex cases, such as a tooth with an extensive root canal network, may need to be performed by an endodontist using microscopic equipment.
A tooth that has undergone severe trauma, especially a knocked out tooth, will need extensive follow-up care by a general dentist and possibly an endodontist to improve its chances of long-term survival. Because of the severity, the tooth may lose viability and the body ultimately may begin to reject it. For this reason, the tooth should be monitored on a regular basis and may need further treatment from time to time, even up to five years after the injury.
One final word: if you participate in sports or exercise activity, you can significantly reduce your risk of dental injury with a mouthguard. There are various types, but the best protection is one custom designed to fit the specific contours of your mouth. We'll be glad to advise you further on how to protect your teeth from injury.
If you would like more information on dental injury prevention and treatment, please contact us or schedule an appointment for a consultation. You can also learn more about this topic by reading the Dear Doctor magazine article "Trauma & Nerve Damage to Teeth."
By Mark Makela D.D.S., PC
October 11, 2013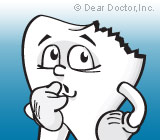 Your son has fallen and hit his face against a hard surface. Not only is he in pain but now there is also a chip missing from his front tooth. He is worried that his smile will never be the same. What should you do?
Answer: If you can find that missing chip, sometimes we can bond the fragment back on to the tooth. The tooth should be evaluated and repaired as soon as possible, although in the absence of other signs and symptoms of injury, and if your child is not in acute pain, it can probably wait up to 12 hours.
If the fragment can't be found, then the tooth can be restored with tooth-colored filling materials, which are also physically bonded to the natural tooth. Done well, these "composite resin" fillings can last for years and look perfectly natural. They may eventually need to be replaced with something more permanent.
If the chipped tooth is a child's primary (baby) tooth rather than a permanent (adult) tooth, the treatment will be similar.
However, a blow to a tooth can cause damage to the pulp — the living tissue within the tooth, which can become infected and die. If the damage to a primary tooth is too extensive it may be better to remove it to avoid damage to an underlying and developing permanent tooth. A place-holding appliance called a space maintainer may be used. If it is a permanent tooth it may need root canal treatment.
If a tooth is not chipped but is loosened or tender to the touch, it may require temporary stabilization, called splinting, until it has healed. Sometimes no treatment is required. If there has been a fracture to the tooth's root (the part below the gum line) it may heal by itself, or it may require further treatment especially if it is a permanent tooth, depending on the individual situation.
It is important to evaluate teeth that have been hit or damaged as a result of injury to ensure that they remain healthy and functional. We will keep track of the tooth or teeth, with observation, x-rays when necessary and monitoring over time to make sure no permanent damage has been done.
Contact us today to schedule an appointment or to discuss your questions about repairing a chipped tooth. You can also learn more by reading the Dear Doctor magazine article "The Field-Side Guide to Dental Injuries."
By Mark Makela D.D.S., PC
October 19, 2012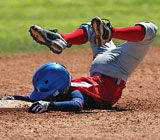 Every parent, caregiver, coach, sports fan and especially injured party dreads the moment when an injury to the mouth occurs during a sporting event. The first thought observers have after looking closely to see if it is their child or someone they know is, "I hope someone knows what to do!" Do you know what to do in case of a dental sports emergency? Test your dental injury IQ with this simple, quick quiz. The answers are listed at the bottom of this article.
Dental Injury IQ
If a tooth (including its root) is totally knocked out, what can you safely store it in while finding a dentist within 5 minutes of the injury?

Water or salt water
Milk (preferably cold)
Inside the cheek (mouth) of the injured person
All of the above

True or False: Immediately following the injury, fresh cold tap water or bottled water is the best way to remove debris from where a tooth was knocked out.
If a tooth has shifted from its original position following an injury, you should...

See a dentist within 5 minutes
See a dentist within 6 hours
See a dentist within 12 hours
Only see a dentist if the tooth is not better in a few days

True or False: You treat a knocked out baby tooth in the same manner as you do a permanent tooth.
The most important thing to do to save a tooth that has been completely knocked out of the mouth is to…

See a dentist as soon as possible
Replant the tooth within 5 minutes
Stop the bleeding before re-planting the tooth
Rinse the tooth with fresh, clean water
The Answers
1) d = all of the above, 2) true, 3) b = see a dentist within 6 hours, 4) false – baby teeth are typically not replanted, 5) b = replant the tooth within 5 minutes
Want To Learn More?
Contact us today to discuss your questions or to schedule an appointment. You can also learn more about treating dental injuries when you read the Dear Doctor article, "The Field-Side Guide To Dental Injuries." Or, you can download a FREE, pocket-sized guide for managing dental injuries.